June was a busy month for WWE and is ending with a Huge Twitter party.
John Cena sets a Make-A-Wish record
WWE Superstar John Cena set a Make-A-Wish record granting his 300th wish to seven-year-old Jonathan Littman. Cena, a Wish Ambassador and previous recipient of the prestigious Chris Greicius Celebrity Award, is the only celebrity to reach this milestone. He continues to be one of the most frequently requested celebrity wish granters.

Littman was treated to a behind-the-scenes tour and Cena's personal seats at Monday Night Raw on June 18. Thinking he was headed to Emmy® Award-winning Good Morning America for a studio tour, Littman was then joined by Cena on the national morning show along with ABC News' weather editor Sam Champion.

Cena and Littman on Good Morning America:

June 11 Be a Star anti-bullying rally in Hartford, CT is hosted by WWE Superstar David Otunga and Executive Vice President, Stephanie McMahon.
Take a Stand Against Bullying

be a STAR is an anti-bullying alliance co-founded by The Creative Coalition and WWE. Its mission is to ensure a positive and equitable social environment for everyone regardless of age, race, religion or sexual orientation through grassroots efforts beginning with education and awareness. If you're a student, teacher or parent, we have the resources and tools to help you put an end to bullying in your school and community. Start now by taking the be a STAR Pledge. Then learn more by exploring the many helpful and informative features on this site.
Beth Phoenix in WWE Magazine
Beth shows a different side in the WWE Magazine "Glamazon". Beth looks like a classic beauty in these photos. She will not only knock you out but she is a "knock out". You Go Girl!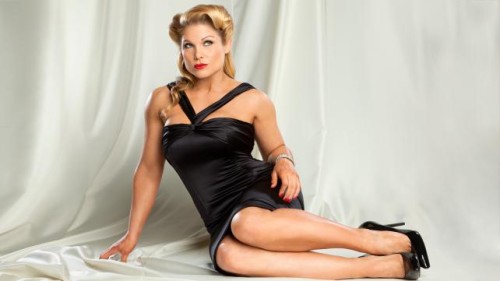 Twitter Party #WWEMoms
When: Thursday, June 28th, 2012 – 10pm ET
Hashtag: #WWEMoms
Where: Twitter (Tweet Grid coming soon)
Who: @lisasamples (host), @RachelFerrucci, @WrestlingAddict, @SoberJulie, @WWEmoms
What: Come join us as @lisasamples and the #WWEmoms panelists talk about upcoming WWE Events
Prizes: Awesome Prizes
We would love to see you all at the party!
**disclosure** I'm a part #WWEMoms and have been compensated for this post. All opinions are my own.