Zaarly.com (@zaarly) is a site where we can find help from companies or independent contractors for anything you can think of. For example a college student posted about a "look a like" for his graduation, he wanted to go to electric daisy carnival and his parents said they need to see "him" get a diploma. It was most creative. I was thinking I could use use it to have someone put the lights up on my house since I'm so far behind with decorating. I also would like someone to do some shopping for me!
The reverse is also a possibility. If you can fulfill a task, service, or have a product that is wanted, you can make money on Zaarly.
It doesn't end there. You can also post items you are looking for and set the price you're willing to pay. You can go there to see if anyone is selling something at a price you are happy with.
The Zaarly possibilities are endless…
Just follow the Marketplace Rules, and you are ready to get help at your price, or answer someone's request if it works for you.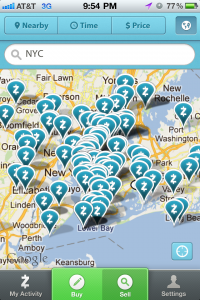 Sign up on  Zaarly today, and when you do Zaarly will donate $1 to Feeding America – @feedingAmerica. In order for Feeding America to receive the donation you just click the Zaarly link. Each donation represents a gift to Feeding America's entire mission. $1= 8 meals secured by Feeding America on behalf of local food banks.
What are you waiting for? Zaarly is the answer to the age old issue of not having enough time, so why not sign up and try it out.
2 Chances to win!!!
Enter to win a chance for a $100 Visa gift card – Congratulations to Cheryl Budge!! You won $100
Sign up for Zaarly using this link
Write a blog post about Zaarly (must be up by Dec 8th)
Let your readers know they can win a $50 Visa gift card (all entries must be in by Dec 15th 11:59 EST)
Enter your post url in the comments below
The link you need to include in your post for sign up is (http://zrly.it/dailypinchmommyality). You must enter your url in the comments here so I know you're entering the $100 #giveaway. All entries from all blogs entered will be submitted to win the $50 Visa card on Dec 16th. Your readers must use the specific link to sign up.If you have any questions email Rachel (at) RachelFerrucci.com
Enter to win a chance for a $50 Visa gift card
Sign up for Zaarly.com using this link (It's Free and $1 goes to Feeding America!)
Come back and place your user name in the comments
Entries must be in by Dec 15th 11:59 EST
Congratulations Alysia George  you won $50 Visa!
That's it!
Winners are chosen through random.org. US only, sorry. Chances of winning depend on how many entries are received through all posts with this giveaway. Winner must respond to email within 48 hours. Name will also be placed on this post.