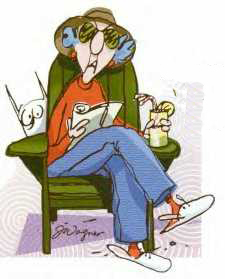 I'm in my early 40s. I got here unexpectedly. This decade introduced me to being a caregiver for my grandma who is literally twice my age. During the early stages it was sorta nostalgic. I would give her pedicures and be amazed that her toes were MY toes, only double the tenure.
Then one morning, it all changed. She called me and I could tell something was wrong. There was an echo in the background which immediately had me asking, "Grandma, where are you?"
"In the bathroom at work." At the time she was working full-time in girl's apparel at Wal-mart.
"What's happening?" I inquired.
"My insides are coming out!" she exclaimed.
"Like you have bad diarrhea?"
"No. I have to keep poking my insides back up inside me."
"Um….I'm pretty sure that's NOT supposed to happen. I'll come get you to go to the doctor." I said, trying to keep my voice even.
"No. I can't miss work."
"But you just said your insides are coming out! This probably warrants missing some work. Don't you think?"
"No."
"Okay. Well, I'm going to call your doctor and tell him what's going on and make an appointment. If he says you have to come in today, you'll have to leave work."
It's agreed.
I called the doctor and we are scheduled for the next day. She'll be seeing the OB-GYN that delivered my Beauty Queen.
At the appointment, we're told Grandma has experienced vaginal prolapse. I have never heard of this, but when I'm told "it's common" I can barely hold it together!
For those of you who don't know about vaginal prolapse:
A vaginal prolapse is a condition in which structures such as the uterus, rectum, bladder, urethra, small bowel, or the vagina itself may begin to prolapse, or fall out of their normal positions. Without medical treatment or surgery, these structures may eventually prolapse farther and farther into the vagina or even through the vaginal opening if their supports weaken enough.
The symptoms that result from vaginal prolapse commonly affect sexual function as well as bodily functions such as urination and defecation. Pelvic pressure and discomfort are also common symptoms.
Approximately 30%-40% of women develop some presentation of vaginal prolapse in their lifetime, usually following menopause, childbirth, or a hysterectomy. Most women who develop this condition are older than 40 years of age. Many women who develop symptoms of a vaginal prolapse do not seek medical help because of embarrassment or other reasons. Some women who develop a vaginal prolapse do not experience symptoms.
*http://www.emedicinehealth.com/vaginal_prolapse/article_em.htm
Initially, Grandma was treated with a "donut" that pushed the parts back up into her and filled the void where they were falling. In the last year, she's had surgery to correct the issue and she is doing well.
This all made me realize the importance of taking care of my body. Sure, there's eating well and exercise, but more than jumping jacks. Part of every woman's regiment should be taking care of her feminine needs. Unfortunately, it's not something we talk about. There's not a whole lot of education out there being shoved at us to explore. It took my grandma's demise to make me aware that my "insides" could fall out. I curse my mother sometimes, thinking she should be here taking care of grandma, but then I'd have another 20 years before I learned anything about my body and age.
Thanks to Ivana Sedic, that education is being made available to us with solutions to our feminine needs. IN 2009, Sedic started Intimina. Her close relationship with LELO, gave her inspiration and concluded that woman needed a reputable company with standards that we could turn to and take care of our feminine well-being. Now, a globally recognized company, not only providing items that aim at a woman's intimate needs, but also a company where we, as women can turn to find the resources and facts that allow us to enjoy every aspect of our femininity.
In the doctor's office with grandma, I asked a lot of questions. I was told that Kegel Exercises can help make those walls and vaginal muscles stronger. Anyone who has been pregnant knows that Kegels are simple muscle contractions that strengthen the pelvic floor muscles. Not only are the great for preparing our body for childbirth, they also help us maintain bladder control.
While we may not always be able to do jumping jacks, Kegels help women through various stages of our lives. It's never too soon or too late to start. The benefits are worth the small effort.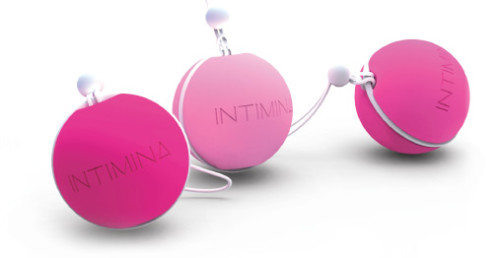 As part of Sedic's mission to empower women, Intimina has designed The Laselle Kegel Exerciser. It's a discreet, smooth silicone ball that's safe to use. Simply select one of three weighte4d balls, depending on current pelvic strength and insert into the vagina. This gives your muscles a solid object to contract around making each kegel more effective. As you build strength in your pelvic floor, purchase a heavier ball for more resistance and keep working the muscles.
I was a bit nervous when I initially started this review. I know that having had twice the children as my grandmother, my pelvic floor is probably in need of attention. Insertion was a cinch and after a few seconds I didn't really know it was there. There was no discomfort. The ball responds with the body as it moves and nearly forces the pelvic floor muscle to contract. It doesn't hurt.
Intimina offers a solution for anyone who may experience dryness with the Intimina moisturizer. It's a water-based product fortified with aloe vera. It's alcohol, glycerin and paraben free. It can be applied internally on a daily basis to help allieviate dryness, prior to intimacy or even externally as a gentle and hydrating lotion. It is not greasy, which is something I appreciate!
Save yourself a prolapse, or even incontinence by exercising your pelvic floor muscles. It's easy, discreet and will benefit you long into your years. Intimina products are available through their website, CVS.com and Drugstore.com

Learn step by step kegel floor exercises
  Julee Morrison is a quirky, dorky, Utah native and mother of six with an appetite to taste the world; meet its desserts, and blog about them on Mommy's Memorandum. With experience working with many brands recognized nationwide, such as Chevy, Nutrisystem, K'Nex, Rabbit Air, Tiffany & Co., Master Lock, Pepperidge Farm Fishful Thinking, Disney and more! Julee Morrison and/or her work have appeared in the LA Times, Yahoo! Shine as well as the following magazines: Weight Watchers, All You, Scholastic's Parent and Child, Disney's FamilyFun, Red River Family and Taste of Home. She has appeared as a Parenting and Lifestyle Expert on KSL5, ABC4, FOX13 and Channel 2 News. She has been Selected as a Canadian Family Top 53 Blogger. She is also the author of Centrifugal Motion.

Julee Morrison
Disclosure of Material Connection: I received one or more of the products or services mentioned above for free in the hope that I would mention it on my blog. Regardless, I only recommend products or services I use personally and believe will be good for my readers. I am disclosing this in accordance with the Federal Trade Commission's 16 CFR, Part 255: "Guides Concerning the Use of Endorsements and Testimonials in Advertising.".