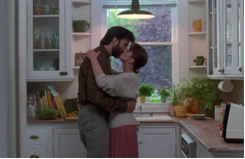 No matter if you are a SAHM or a WAHM or a working mom you are tired at the end of the day. .  The last thing you are thinking about after a long day of working, cooking, cleaning, wiping noses and bums is to get intimate with your husband.  Well after having babies you can often have a lull in your relationship.  Once you get on that road it is easy to stay that way.
Although it would be nice to a have long getaway to somewhere tropical to reignite those feelings from when you were just dating and without kids, it just is not realistic.  You have to find the sitters, the time off and more importantly the money.
Here is an inexpensive way to keep the spunk in your home without breaking the bank.
Plan a date at home to make a nice meal together.  You have heard of the naked chef??  Well that part is up to you.  Remember the movie 9 ½ Weeks?
Simply, put the kids to bed early, dress up and cook together.  If they are older, put them up in your room with a loud movie on.  You never know where you might end up after feeding each other tastes of the whipped cream you are making for dessert.
Try something different like fondue which is easy to make and very sensual.
You will still feel special and save money on the sitter and the dinner.  Don't cook, no problem, find takeout from a restaurant you love and serve it on your flatware.  Light some candles and you are instantly taken to your favorite romantic spot.
What are your favorite recipes to cook together?
Meet Maria- I am a SAHM, blogger, tutor with 3 children, a puppy and husband. I am a midwestern girl, now living in the south and mixing both influences into our daily lives.  As more people are staying closer to home, the trick is still making life events special, inexpensive and often using things you already have around the house. My blog, Close to Home Offers recipes, crafts, reviews, giveaways, gardening and entertaining tips.