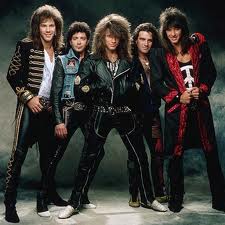 This week my Tuesday Tune is from Bon Jovi. When Bon Jovi first came out they were a total rock band. There was a point in their career that they decided to change it up and keep up with the times. This is when I thought they were a little pansie, however, you can not deny the rockers they once were. I have many favorites from this band but my top three that suck you in to sing your heart out are:
Wanted Dead or Alive- Probably one of the best songs ever! I'll never forget the first time I saw them play it live in New Haven. Richie Sambora comes out and is just sitting there on a stool playing and Jon Bon Jovi starts singing. We didn't scream, we were too busy feeling the guitar and the voice. Once Jon got to "I'm a cowboy", we (the crowd in the coliseum) were singing so loud, I'm not even sure I heard Jon anymore. It didn't matter at that point because we were all a part of the band at that moment and they were playing background for us. It was one of the best concerts I ever went to and for me to remember it, tells a lot!
I'll Be There For You- No explanation needed
Never Say Goodbye!- This song is special to me because we had this played as the last song at our wedding. My husband, me, and the girls all sang it together.
What's your favorite Bon Jovi tune?
For more #TuesdayTunes check out High Impact Mom, TheMorrisBunch, Rajeanblomquist and ShanaMama