Almost every child has a favorite blanket, stuffed animal, or toy that they're attached to. They usually use it when going to sleep or to comfort them at different times. When they have a blanket, it makes easy cleaning but stuffed animals can be a challenge. These favorites are dragged, drooled on, spit up on, stepped on, thrown, and can look like they've been dragged down an interstate.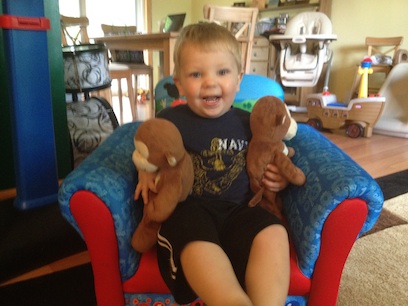 If your child decides it's going to be a stuffed animal, I suggest you immediately go out and buy four more. Switch them up as much as possible. Kids get used to the feel and smell of it. If you went a year with one stuffed animal and you needed to swap it in for a new one, most likely your child will know and won't accept this stranger into their life.
Check the tag to see if it's machine washable. If it is, you're all set but make sure you wash it often. If it can't be put in the washer, go to the manufacturer's website and check their cleaning instructions.
My Prince was given a little monkey from Ty. The tag said machine washable, Yay! My daughter went out and bought four more. As Prince got older he named his monkey Momo. When leaving the house Prince makes sure he brings Momo. They are together all the time. We get to keep a Momo at my house for when is Prince is there. Momo stays nice and clean because there are five of them. Some are skinnier than others but they are all loved equally. Momo (actually Bongo) is now retired from Ty so we're lucky we bought the five before this happened.
Does your baby have an attachment to something? What was/is it?